FREE YEG + AREA DELIVERY WITH ORDER OF $40 OR MORE.
FREE SHIPPING WITH ORDERS OF $80+(USA + CAN ONLY)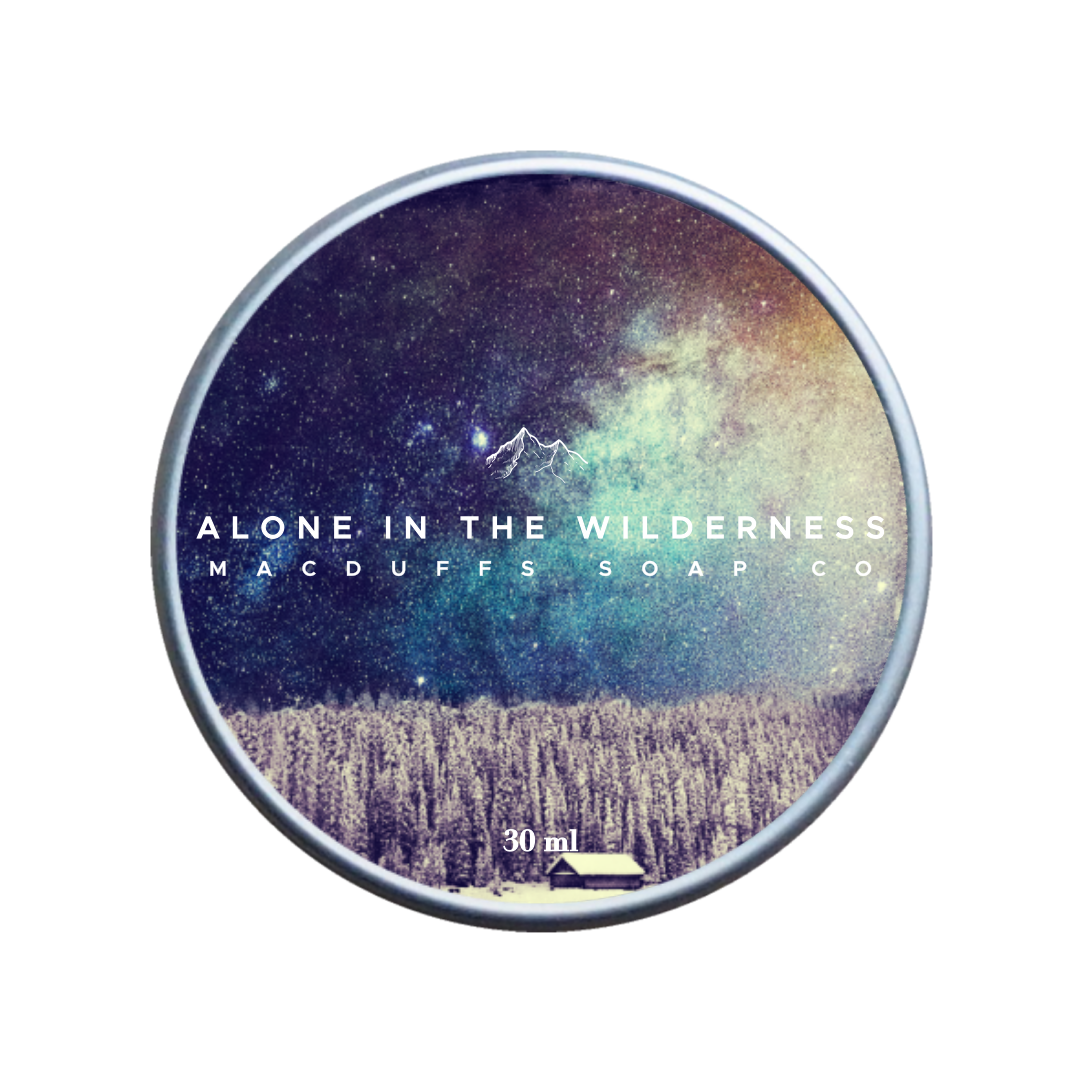 ALONE IN THE WILDERNESS BEARD BALM
SKU MGP-ALONEBALM
Product Details
[tab name="Description"]
Notes: Fresh Cut Cedar, Green Cedar Leaf, Camphor, Juniper Berry, Fresh Balsam, Cardamom
"Nature never did betray the heart that loved her" – William Wordsworth

Bright and green cedar leaf fold into a rich base of juniper berry, freshly cut cedar, cypress and finished with a hint of cardamom. A straighforward, dry green scent with a hint of sweetness thanks to the cardamom. Scented naturally will essential oils.
Inspired by Dick Proenneke's "Alone in the Wilderness" film. Dick Proenneke, while in his fifties, went to homestead alone in the wilderness of Alaska for almost thirty years.
[tab name="About Our Beard Balm"]
Four kinds of wax– bayberry, beeswax, candelilla and carnauba– make a unique feeling balm that's bolstered with a complimentary range of premium hair conditioning oils and butters.

Our beard balm will tame your beard, add shine and control "beardruff' by keeping your skin moisturized.

Each Beard Balm has innovative and multilayered scents using at least five essential oil blends.

Depending on beard size and frequency of use, this is about a 3 month supply.

Comes with a drawstring cloth bag to protect your beard balm while travelling.

Available in a high quality & reusable glass jar with metal lid or a convenient one ounce travel sized tin.
[tab name="Ingredients"]
Bayberry wax: An aromatic wax derived from bayberry leaves, similar to beeswax.
Beeswax: a hard wax that traps in moisture.
Candelilla Wax: a moderately hard wax that adds shine to our balm, is conditioning, and easily absorbed.
Carnauba Wax: One of the hardest cosmetic waxes available, gives our balm holding power.
Organic Argan Oil: A powerful moisturizer that protects your skin and hair.
Organic Black Cumin Seed Oil: Believed to help with hair growth and is currently being researched to explore any positive effects on skin conditions such as psoriasis.
Organic Jojoba Oil: A liquid wax that is similar to the protective barrier naturally made by your skin. Easily absorbed through hair follicles but doesn't block them.
Illipe Butter: Known for its high moisturizing properties for and it's ability to restore elasticity to hair and skin. It's extremely helpful in the treatment of dry or over-processed hair.
Organic Babassu Oil: Believed to stimulate hair growth, high in omega 3, 6 and 9 essential fatty acids, anti inflammatory and is easily absorbed by skin and hair.
Organic Shea Butter: Known to be anti-inflammatory, moisturizing, skin softening, antioxidant and antimicrobial.
Organic Coconut Oil: Moisturizing, helps hair retain protein and is believed to stimulate hair growth.
Vitamin E: Highly skin nourishing, Vitamin E also protects the beard oil from oxidation, improving shelf life.
[tab name="Directions"]
Apply a dime sized portion to the palm of your hand. Work wax from base of beard outwards, as needed. A little goes a long way.
---
Save this product for later