FREE YEG + AREA DELIVERY WITH ORDER OF $40 OR MORE.
FREE SHIPPING WITH ORDERS OF $80+(USA + CAN ONLY)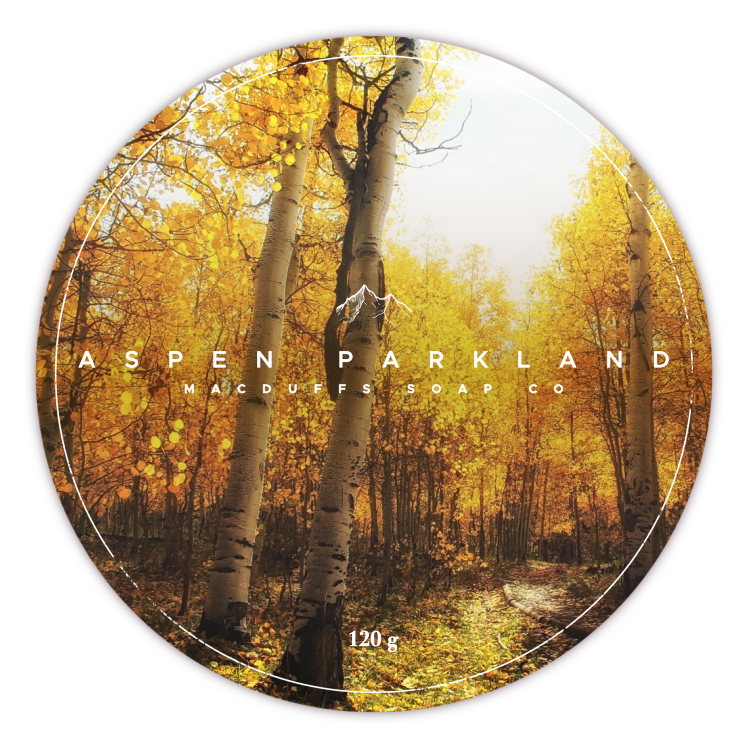 ASPEN PARKLAND (UNSCENTED) SHAVE SOAP
SKU MGP-ASPENSHAVE
Product Details
[tab name="Description"]

"To do a dull thing with style, now that's what I call art" – Charles Bukowski
Unscented soap base for those that have sensitive skin or want to scent the lather themselves. If you scent your own, be sure to check out range of diffuser blends, made entirely with essential oils.
Why Aspen Parklands for our unscented products?
Alberta is full of impressive landscapes that have inspired our line of scents–from the deep yellow prairie and foothills in the south, the Rockies in the west and then the Badlands in the east. With all of these just a short drive away, it's easy to take for granted what surrounds us everyday our own hometown of Edmonton, situated in the aspen parkland biome. River valleys, poplars, spruce and prairie grasses on a generally flat landscape might not seem exciting in comparison to the Rockies, but there is beauty in it's supposed plainness and deserves an homage.

Made with our "Version 3" base.
Available in a plastic large dish (soap weight is 120g) with enough room to work the brush around.
[tab name="About Our Soap"]

We are proud to include beef tallow sourced from a family run farm in southern Alberta that is both certified grass fed and humane.
Our shea butter is unrefined, organic and certified fair trade and, with the aid of goat milk, oils and butters, helps keep your skin feeling moisturized after you shave.
Green Tea extract is a rich source of antioxidants such as Vitamin C and Vitamin E
White Willow Bark extract is an astringent
Hydrolyzed Oat Protein* is a moisturizer that enhances the moisturizing properties of our shave and imparts a velvet-like smoothness after drying.
Silk and goat's milk lend a luxurious creaminess to your shave
Superfatted with the organic oils of argan, jojoba, pumpkin seed, camellia seed and shea butter.
Aloe Vera helps soothe the skin and makes for a better post shave feel.
All of our fragrance oils are paraben and phthalate free.
*The manufacturer states that the product is gluten free however because it is made from the proprietary hydrolysis of oats, there may be traces of gluten remaining. The manufacturer has tested several lots and all contained less than 20ppm gluten.
[tab name="Ingredients"]
Stearic Acid, *Tallow, Glycerine, Castor Oil, *Shea Butter, Cocoa Butter, *Babassu Oil, Rice Bran Oil, Coconut Oil, *Camellia Seed Oil, Mango Butter, Aloe Vera, Goat Milk, Hydrolyzed Oat Protein, Sodium Lactate, *Argan Oil, *Jojoba Oil, *Pumpkin Seed Oil, Silk Peptides, Green Tea Extract, White Willow Bark Powder, Essential Oils, Paraben + Phthalate Free Fragrance
(*) ORGANIC
Save this product for later