FREE YEG + AREA DELIVERY WITH ORDER OF $40 OR MORE.
FREE SHIPPING WITH ORDERS OF $80+(USA + CAN ONLY)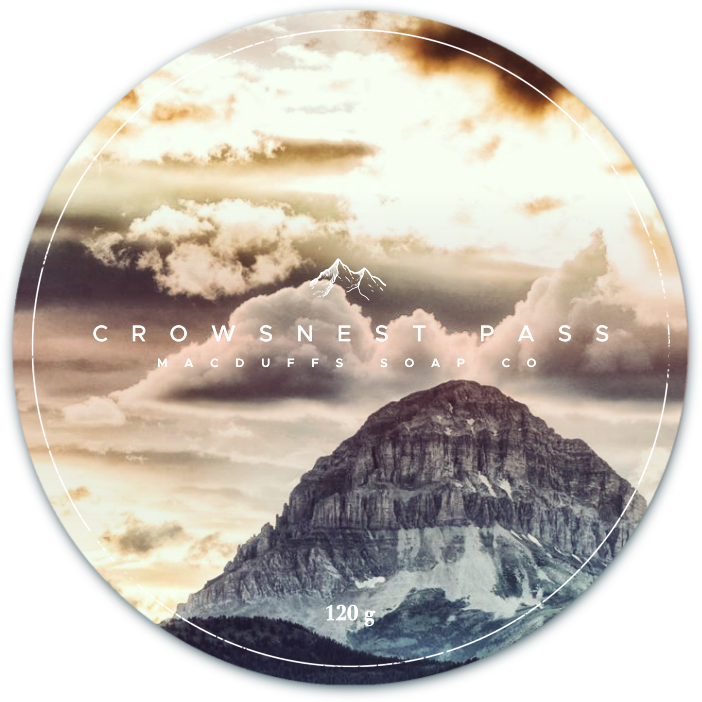 CROWSNEST PASS SHAVE SOAP
SKU MGP-CROWSNEST
Product Details
[tab name="Ingredients"]

Notes: Spice, Citrus, Bay Leaf, Vanilla, Tobacco, Leather, Musk, Cedar, Oakmoss

"Trained to live beneath the soil, In dark and damp they have to toil." – From the Coal Miner's Prayer
Our Crowsnest Highway combines a timeless masculine scent with some sweeter notes for a modern touch. You'll smell leather, tobacco, bay leaf and spice tempered with sweet citrus, vanilla and warm cedar. This is a sweeter scent that is balanced by the spice notes, and while masculine, this is quickly becoming a best selling unisex scent.
Made with our V3 base.

Available in a plastic large dish (soap weight is 120g) with enough room to work the brush around.
[tab name="About Our Soap"]

We are proud to include beef tallow sourced from a family run farm in southern Alberta that is both certified grass fed and humane.
Our shea butter is unrefined, organic and certified fair trade and, with the aid of goat milk, oils and butters, helps keep your skin feeling moisturized after you shave.
Green Tea extract is a rich source of antioxidants such as Vitamin C and Vitamin E
White Willow Bark extract is an astringent
Hydrolyzed Oat Protein is a moisturizer that enhances the moisturizing properties of our shave and imparts a velvet-like smoothness after drying.
Silk and goat's milk lend a luxurious creaminess to your shave
Superfatted with the organic oils of argan, jojoba, pumpkin seed, camellia seed and shea butter.
Aloe Vera helps soothe the skin and makes for a better post shave feel.
All of our fragrance oils are paraben and phthalate free.
*The manufacturer states that the product is gluten free however because it is made from the proprietary hydrolysis of oats, there may be traces of gluten remaining. The manufacturer has tested several lots and all contained less than 20ppm gluten.
[tab name="Ingredients"]
Stearic Acid, *Tallow, Glycerine, Castor Oil, *Shea Butter, Cocoa Butter, *Babassu Oil, Rice Bran Oil, Coconut Oil, *Camellia Seed Oil, Mango Butter, Aloe Vera, Goat Milk, Hydrolyzed Oat Protein, Sodium Lactate, *Argan Oil, *Jojoba Oil, *Pumpkin Seed Oil, Silk Peptides, Green Tea Extract, White Willow Bark Powder, Essential Oil Blend
(*) ORGANIC

Save this product for later