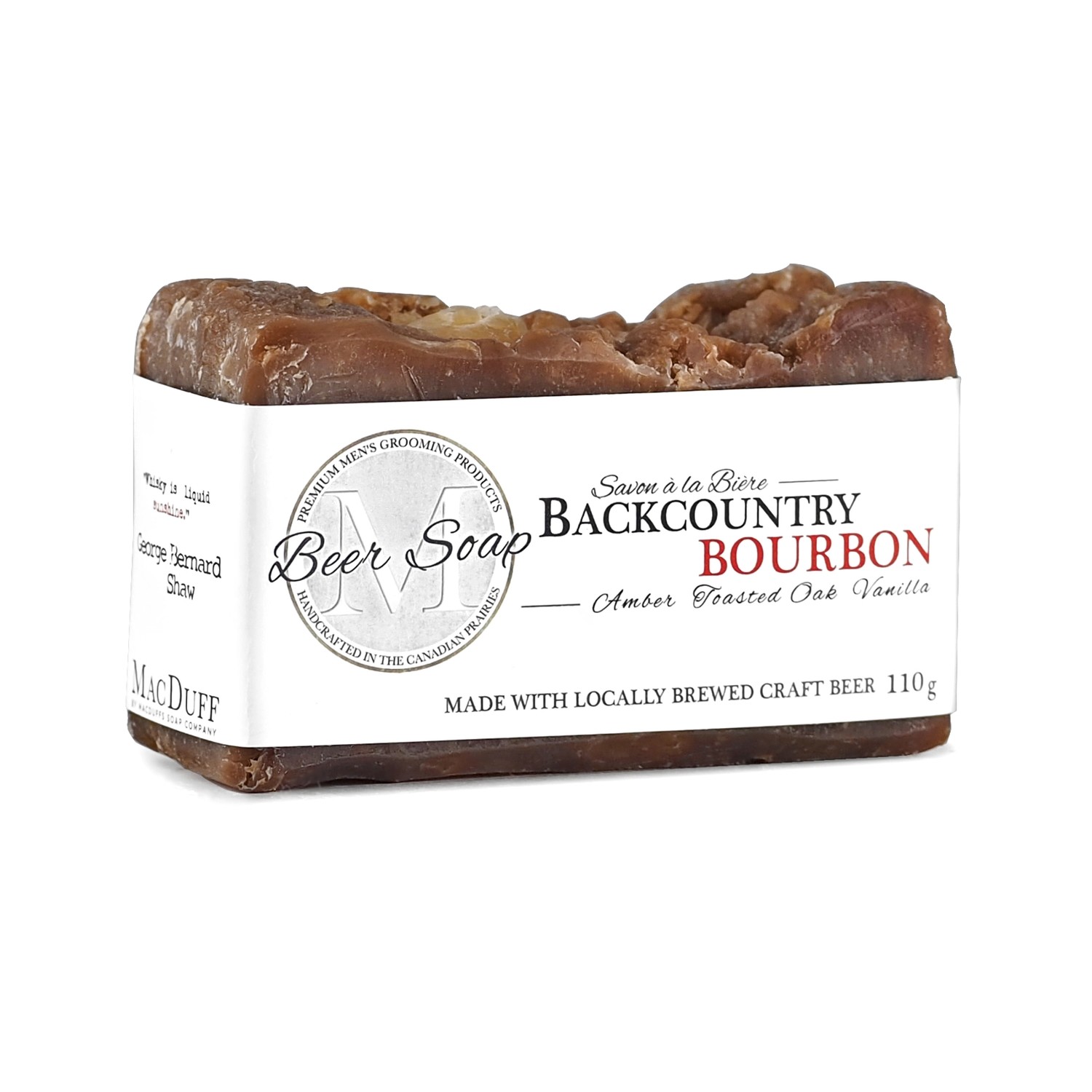 Backcountry Bourbon Beer Soap
SKU MGP-BACKCOUNTRYSOAP
Product Details
[tab name="Description"]
Top: Spice, Sweet Plum
Middle: Toasted Oak, Vanilla
Base: Patchouli, Tonka Bean, Cedarwood
"But of course adventures run on all sorts of whisky." - Atticus
Strong notes of toasted oak wrapped in a bed of warm vanilla and spice. Our Backcountry Bourbon Beer Soap embodies a dram of your favourite whisky had in celebration of long hikes and hard won views.
This is a updated version of our popular "Oak Barrel" scent line.
This soap contains paraben and phthalate free fragrance in addition to essential oils.
[tab name="About Our Beer Soap"]

Our soaps are:
Made with locally brewed craft beer. Beer adds nutrients thanks to the yeast and hops and the sugars contribute to our soap's big lather
Formulated with a blend of seven complimentary oils
Creamy, rich and full of skin nourishing vitamins.
Long lasting and firm: we don't sell our soaps until they've cured for at least six weeks
Cut to fit perfectly into your hand.
Moisturizing: our soaps have avocado oil and at least ten percent pure, unrefined organic shea butter.
Bubbly: there's a big and stable lather thanks to the addition of castor oil.
Vegan
Weight: 110 g after a 12 week cure. Please allow for some variation since the soaps are handmade in small batches
[tab name="Ingredients"]
Olive Oil
Coconut Oil
Fair Trade & Organic Shea Butter
Avocado Oil
Grapeseed Oil
Sunflower Oil
Castor Oil
Craft Beer
Save this product for later