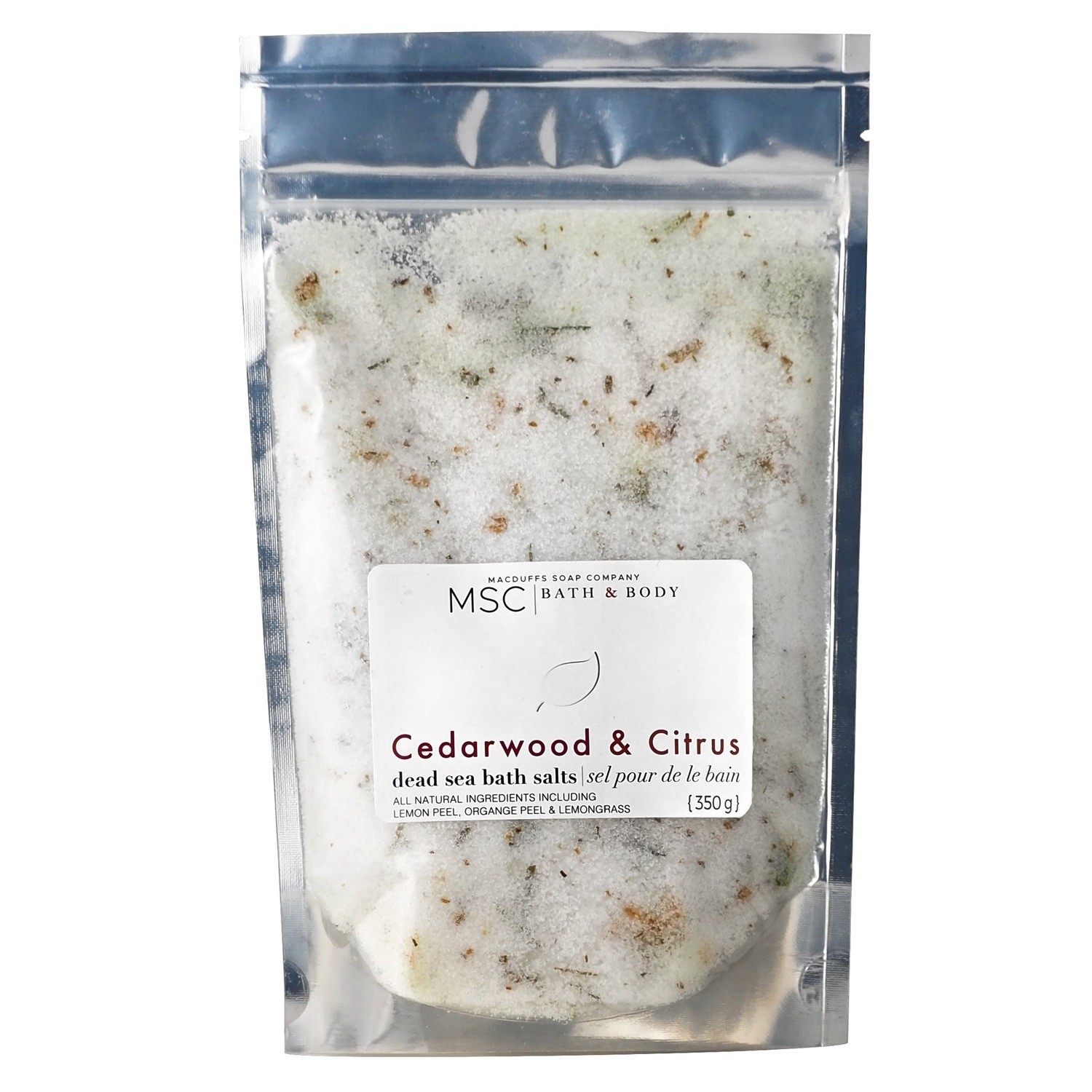 Cedarwood & Citrus Dead Sea Bath Soak
SKU 00076
Product Details
[tab name="Description"]
Top: Orange Peel, Lemon
Middle: Grapefruit, Fresh Cut Cedar
Base: Cedarwood

Our simply named Cedarwood & Citrus Dead Sea Salt bath soak contains a lively blend of citrus essential oils folded into three varieties cedarwood essential oils. Bright and uplifting, perfect for boosting your mood while you enjoy a rejuvenating bath.
Made with a herbal blend of orange peel, lemongrass and lemon peel.
[tab name="About Our Dead Sea Bath Soak"]
Made with pure Dead Sea Salt
Promotes healthy looking skin
High in minerals and nutrients that help your skin retain moisture
Softens and gently exfoliates your skin
Detoxifying
Anti-inflammatory
Believed to help with skin conditions such as eczema, psoriasis and acne
[tab name="Ingredients"]
Dead Sea Salt: Contains 22 minerals loved by our skin including magnesium, bromide, sulfur, calcium, zinc and potassium.
Dendretic Salt: A specialized salt to help retain the scent longer.
Sunflower Oil: A carrier oil to disperse the essential oil blend safely
Vitamin E: Extends shelf life of the product
Tapioca Root Starch: Helps keep the skin soft and smooth
Herbal Blend: Orange peel, lemongrass and lemon peel
Muslin Cloth Bag: Acts like a tea bag for a no mess clean up.

[tab name="Directions"]
Add a 2-4 tablespoons to a hot bath or our muslin cloth bag to reduce clean up. Allow the salts to mix and disperse their aroma while you wait for the water cool down-- water that is too hot will close pores and reduce the effectiveness of our Dead Sea salts.

---
Save this product for later