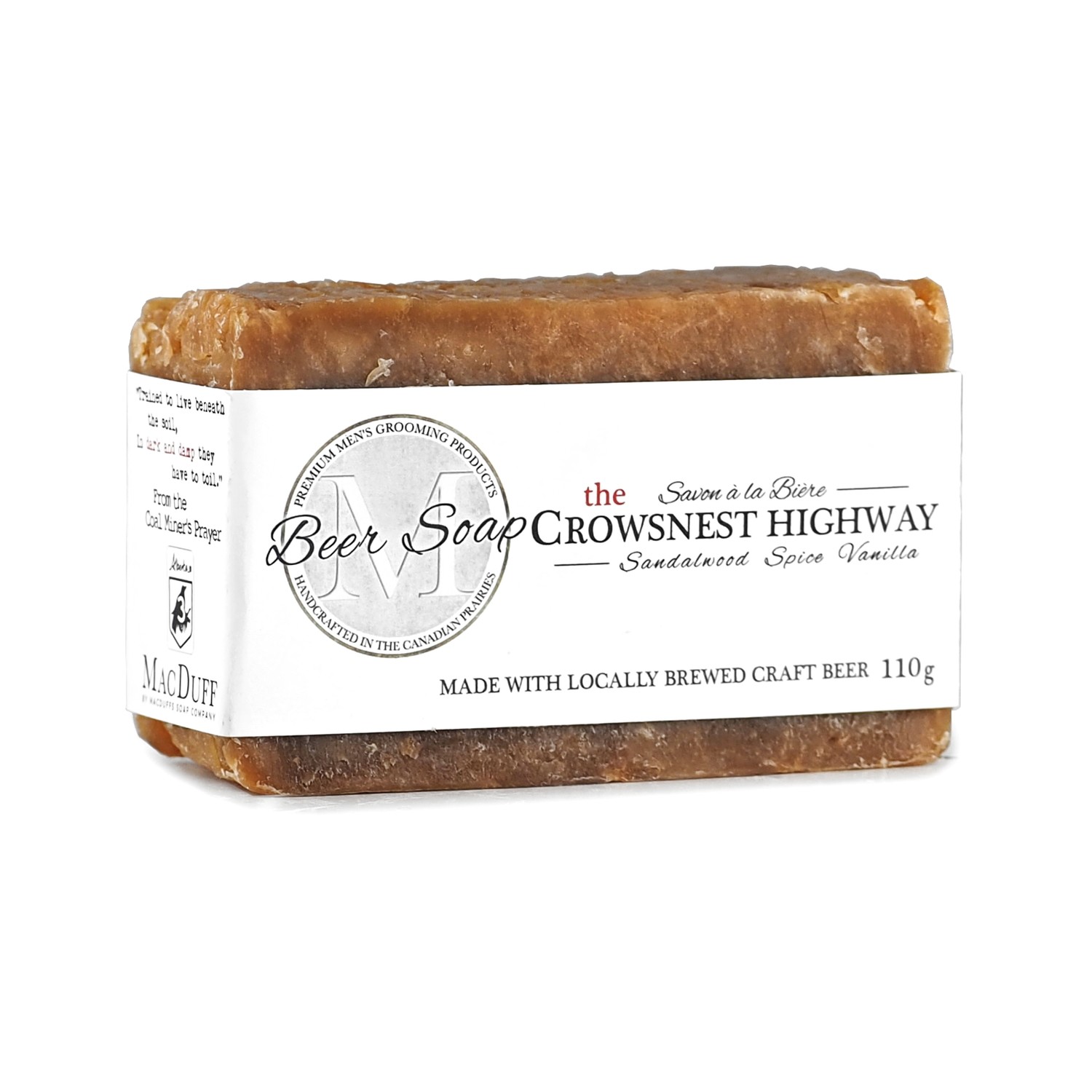 Crowsnest Pass Beer Soap
SKU MGP-CROWSOAP
Product Details
[tab name="Description"]
Top: Allspice, Cinnamon

Middle: Vanilla

Base: Sandalwood, Oakmoss, Patchouli

"Trained to live beneath the soil, In dark and damp they have to toil." -From the Coal Miner's Prayer
Sandalwood, oakmoss, patchouli provide the base for cinnamon, vanilla and allspice that make a rich and masculine soap.

Part of our new "Highways of Alberta" series, celebrating the scenic routes of Alberta. This soap contains fragrance oil.
Our "Crowsnest Highway" beer soap is named after Highway 3 in southern Alberta. It's flanked by deep prairie to the north and the Rocky Mountains to the south, going through old mining towns of the Rocky Mountains and continues through British Columbia.
[tab name="About Our Beer Soap"]
Our soaps are:
Made with locally brewed craft beer. Beer adds nutrients thanks to the yeast and hops and the sugars contribute to our soap's big lather
Formulated with a blend of seven complimentary oils
Creamy, rich and full of skin nourishing vitamins.
Long lasting and firm: we don't sell our soaps until they've cured for at least six weeks
Cut to fit perfectly into your hand.
Moisturizing: our soaps have avocado oil and at least ten percent pure, unrefined organic shea butter.
Bubbly: there's a big and stable lather thanks to the addition of castor oil.
Vegan
Weight: 110 g after a 12 week cure. Please allow for some variation since the soaps are handmade in small batches
[tab name="Ingredients"]
Olive Oil
Coconut Oil
Fair Trade & Organic Shea Butter
Avocado Oil
Grapeseed Oil
Sunflower Oil
Castor Oil
Craft Beer
---
---
Save this product for later