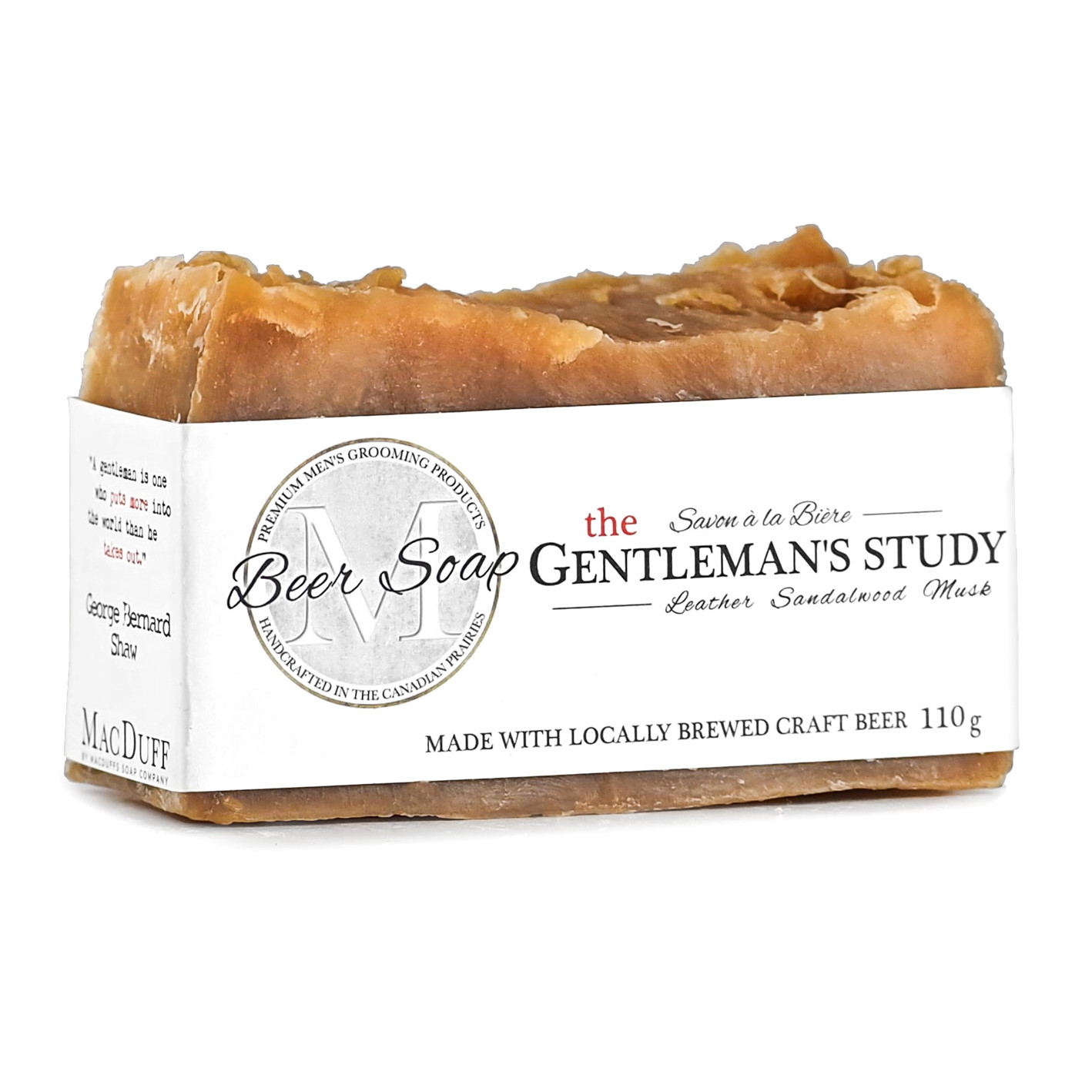 Gentleman's Study Beer Soap
SKU MGP-GENTLEMANSOAP
Product Details
[tab name="Description"]
Top: Tobacco Leaf, Spice
Middle: Leather, Tonka Bean
Base: Black Musk, Sandalwood, Oakmoss
"A gentleman is someone who puts more into the world than he takes out." - G.B. Shaw
Our Gentleman's Study Beer Soap looks back to the classic sophisticated gentleman - well-read, worldly & wise... but also known to love fine tobacco and the occasional whisky.
Notes of leather & patchouli from the old leather-bound books that dominate every shelf; an aged cologne of musk, sandalwood & tonka bean soaked into a well worn chair; hints of sweet tobacco and spice forever ingrained into the walls.

*This soap contains paraben and phthalate free fragrance oil.
[tab name="About Our Beer Soap"]
Our soaps are:
Made with locally brewed craft beer. Beer adds nutrients thanks to the yeast and hops and the sugars contribute to our soap's big lather
Formulated with a blend of seven complimentary oils
Creamy, rich and full of skin nourishing vitamins.
Long lasting and firm: we don't sell our soaps until they've cured for at least six weeks
Cut to fit perfectly into your hand.
Moisturizing: our soaps have avocado oil and at least ten percent pure, unrefined organic shea butter.
Bubbly: there's a big and stable lather thanks to the addition of castor oil.
Vegan
Weight: 110 g after a 12 week cure. Please allow for some variation since the soaps are handmade in small batches
[tab name="Ingredients"]
Olive Oil
Coconut Oil
Fair Trade & Organic Shea Butter
Avocado Oil
Grapeseed Oil
Sunflower Oil
Castor Oil
Craft Beer
---
Save this product for later