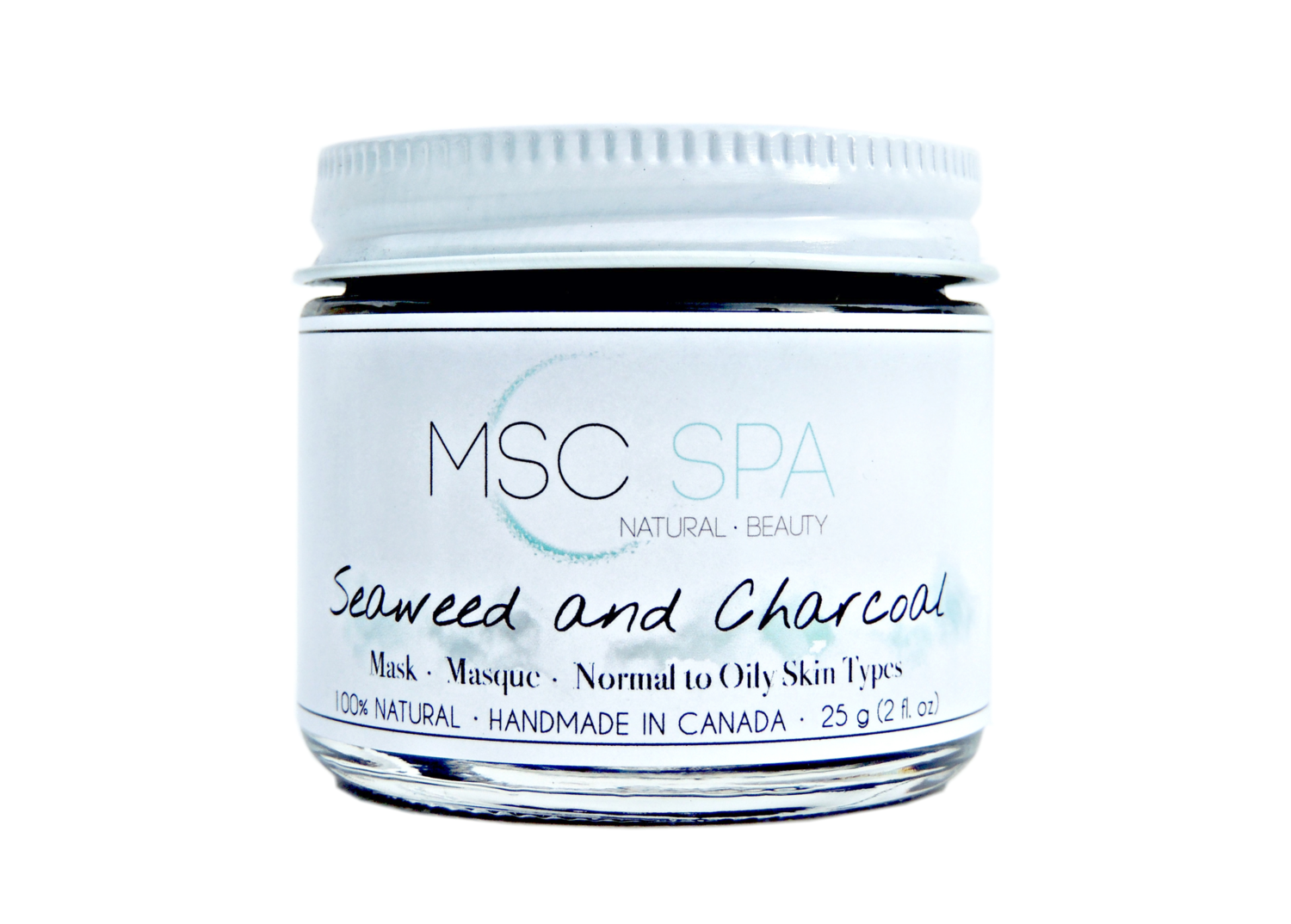 Seaweed & Charcoal Face Mask
SKU MSC002
Product Details
---
Seaweed and Charcoal Anti Aging, Moisturizing & Detox Face Mask
Who says you can't be all things to all people? We've formulated a special mask made from a blend of seaweed powder, activated charcoal, allantoin powder, silk powder, and aloe vera extract (x200 strength). What you're left with is a mask that is highly absorbing, detoxifying, moisturizing, anti-aging!
SEAWEED POWDER: Extracted from kelp found the coasts of Western Canada. Rich in skin nourishing vitamins such as Vitamin C (boosts collagen production which promotes skin elasticity) B12, Vitamin E, minerals, trace elements, and amino acids. Great for exfoliation and is highly absorbant, which gets rid of dead skin and other impurities and leaves the skin soft and radiant. Good for all skin types as seaweed powder contains fatty acids which help your skin retain moisture.
ACTIVATED CHARCOAL: carbon that has been treated with oxygen to open up hundreds of thousands of pores inside, making it highly absorbing and great for any detoxifying regimen or oily skin types. Said to help some forms of skin conditions such as psoriasis and acne as a result of it's ability to deep clean by removing dead skin cells and excess oil. Helps reduce pore size for smooth looking skin.
ALLANTOIN POWDER: An active ingredient in shea butter, allantoin is loved by soap makers and lotion-crafters for it's many wonderful protective properties for your skin. It's a powerful humectant (draws moisture from the air to your skin), reverses the effects of aging, helps heal minor cuts, sunburns, chapping, diaper rash, sun burn and known to soothe other general dry skin related ailments.
SILK POWDER: Has a chemical composition that is similar to skin and hair, so it easily penetrates and is absorbed by skin: a great source for any skin nourishment and maintenance routine. Silk has moisturizing and humectant properties on par with glycerin, but also leaves a smooth sheen and promotes elasticity.
ALOE VERA EXTRACT: Famous for it's soothing, healing, and moisturizing benefits to skin, aloe vera is a traditional source of skin care. Our Aloe Vera is 200x strength, meaning that every gram of aloe vera extract is the equivalent of 200 grams of regular aloe vera gel.
We sell the mask as a dry powder to bypass the need for preservatives (you'll have to add the water yourself), leaving you with a 100% natural product that helps keep the cost down: it keeps longer (2-3 year shelf life), less raw materials needed (no full spectrum preservatives), less packaging (and less shipping weight as well).



Directions:
Mix approx. one teaspoon of mask with one teaspoon of water in a bowl and mix well. Apply to skin and wait until mask just starts to dry, about 10-15 minutes, then thoroughly rinse. Should be enough to make 12-15 masks, depending.
If you've made too much mixture, don't worry-- the powder and water mix should last about at least week or so in the fridge.
*Comes in a high quality and reusable 2 oz glass jar with metal lid

Save this product for later