FREE YEG + AREA DELIVERY WITH ORDER OF $40 OR MORE.
FREE SHIPPING WITH ORDERS OF $80+(USA + CAN ONLY)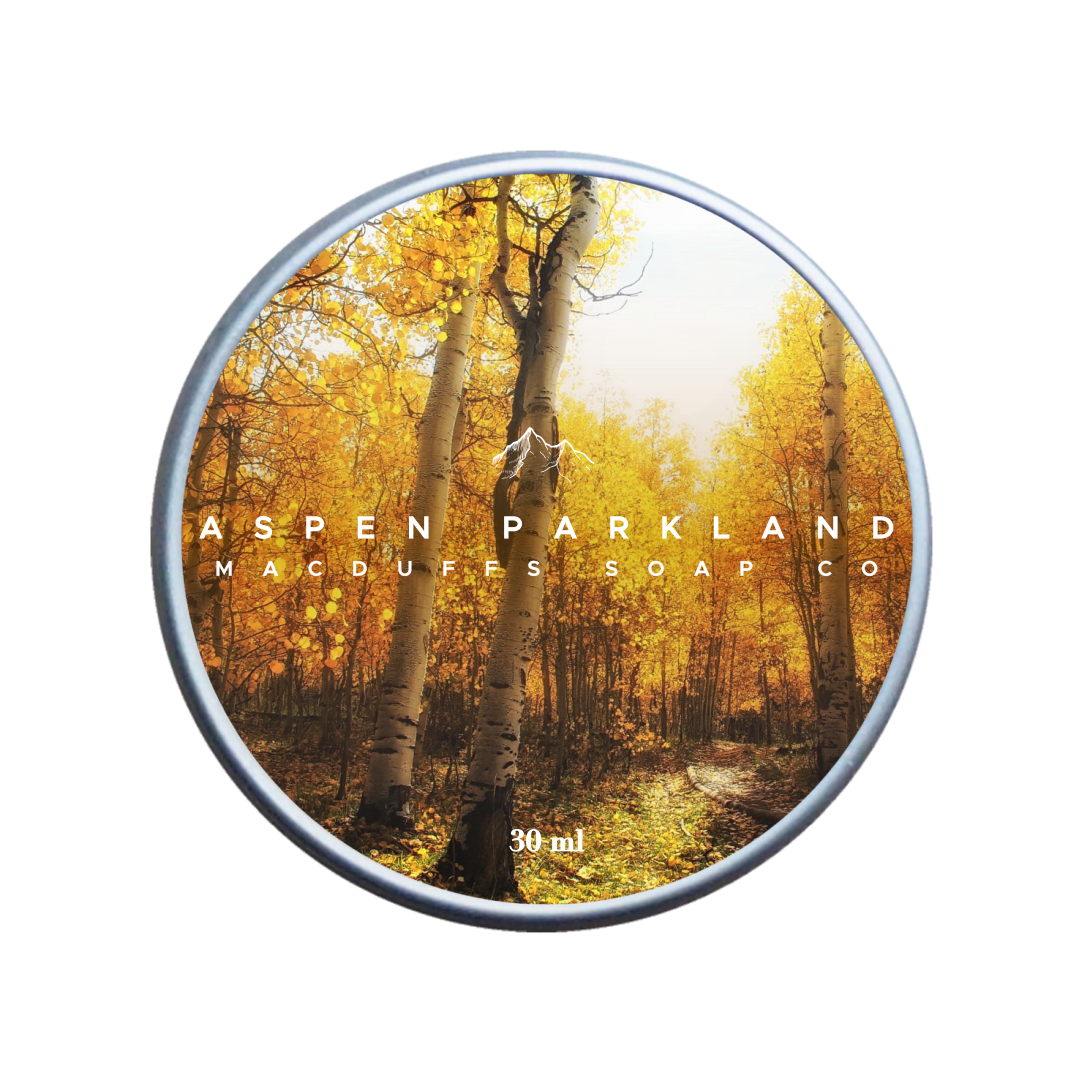 ASPEN PARKLAND (UNSCENTED) ALL PURPOSE BUTTER
SKU MGP-ASPENBUTTER
Product Details
[tab name="Description"]
"To do a dull thing with style, now that's what I call art" – Charles Bukowski
Unscented butter base for those that have sensitive skin or no need for a scent.
Why Aspen Parklands for our unscented products?
Alberta is full of impressive landscapes that have inspired our line of scents–from the deep yellow prairie and foothills in the south, the Rockies in the west and then the Badlands in the east. With all of these just a short drive away, it's easy to take for granted what surrounds us everyday our own hometown of Edmonton, situated in the aspen parkland biome.
River valleys, poplars, spruce and prairie grasses on a generally flat landscape might not seem exciting in comparison to the Rockies, but there is beauty in it's supposed plainness and deserves an homage.
[tab name="About Our Beard Butter"]
Made with five kinds of specialty butters to moisturize and protect the skin: shea, cocoa, mango, illipe and murumuru.
Contains a plant based conditioner that works great for beards and adds a smooth silky feel to the buttter.
Depending on beard size and frequency of use, this is about a 3 month supply.
Comes with a drawstring cloth bag to protect your butter while travelling.
Available in 1oz or 2oz tins.
[tab name="Ingredients"]
Carnauba Wax: One of the hardest cosmetic waxes available, gives our balm holding power.
Illipe Butter: Known for its high moisturizing properties for and it's ability to restore elasticity to hair and skin. It's extremely helpful in the treatment of dry or over-processed hair.
Mango Butter: A soft, smooth butter. Softens your skin, restores shine and protects the skin from the effects of aging. High in isostearic acid, it is ideal for damaged, frizzy, and coarse hair that also helps prevent split ends.


Murumuru Butter: high in vitamins and light, adds shine to your beard without looking greasy.
Cocoa Butter: Anti-oxidant and has anti aging properties. Resistant to spoiling and adds some hardness to the butter
Organic Babassu Oil: Believed to stimulate hair growth, high in omega 3, 6 and 9 essential fatty acids, anti inflammatory and is easily absorbed by skin and hair.
Organic Shea Butter: Known to be anti-inflammatory, moisturizing, skin softening, antioxidant and antimicrobial.
Organic Coconut Oil: Moisturizing, helps hair retain protein and is believed to stimulate hair growth.
Organic Safflower Oil: A light, easily absorbed oil with moisturizing benefits.
Vitamin E: Highly skin nourishing, Vitamin E also protects the beard oil from oxidation, improving shelf life.
BTMS-50: Plant based conditioner great for keeping hair soft and lends a lush creaminess to the balm
[tab name="Directions"]
Start with a dime sized portion. This is an anhydrous product (no water) and a little goes a long way. Works best after a shower as the butters will seal in moisture.

Save this product for later